New partnership with Cheshire based IT services firm brings business continuity solutions to SAP Business One clientele.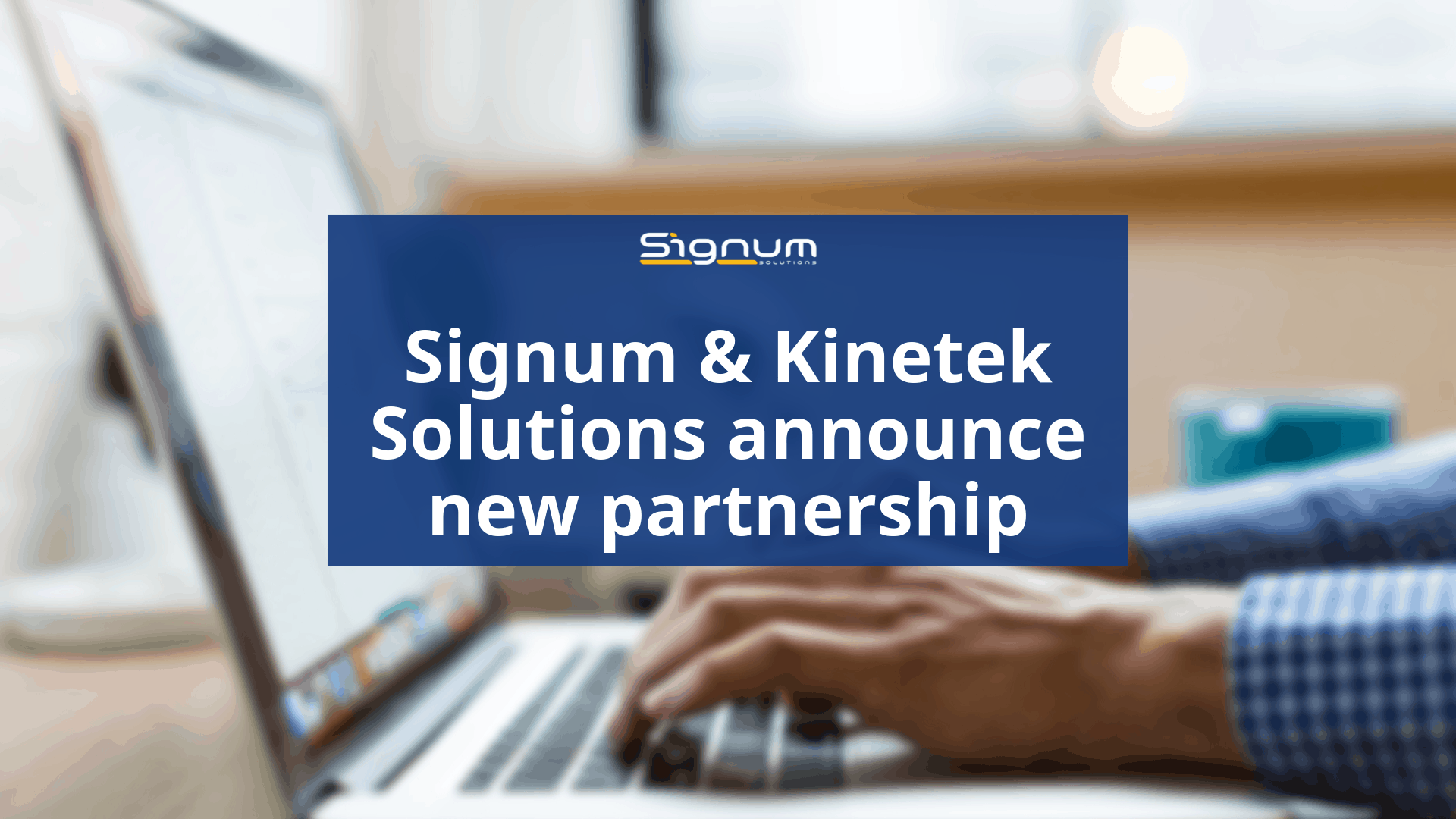 Warrington based Signum Solutions Ltd, is proud to announce that Kinetek Solutions—a Cheshire based IT Services company specializing in server hosting, back up and disaster recovery, has been selected as their strategic IT services partner. 
Through this partnership, Signum Solutions can now offer their clients SAP Business One hosting, backup and disaster recovery solutions.
With a growing amount of sensitive data being stored across different databases and businesses becoming more reliant on ERP software, it has never been a more important time for business to ensure their business remains operational in the event of a critical disaster.
UK businesses are facing increasing threats from cyber criminals, and this partnership provides a platform for firms to manage the risk whilst maintaining a secure ERP ecosystem.
The union between Kinetek and Signum Solutions is intended to play to the respective market strengths of both providers.
Kinetek focus on meeting the demanding requirements of mid-market distributors and manufacturers who rely on mission critical systems to function. The emphasis is on maximising efficiency and reducing costs by helping organisations to benefit from proven technologies such as server hosting, data security and database replication.
Robert Chesworth, Managing Director at Kinetek Solutions said, "We are excited to be able to offer value-add services to Signums' portfolio as one of their strategic partners. We look forward to working together to provide hosting and security solutions for SAP Business One. In Signum, we've found a long-term strategic partner that shares our vision of providing customers with cost effective, simple to administer and resilient ERP solutions".
Signum is an award-winning, industry focused SAP Gold Partner offering SAP Business One ERP software to manufacturing and distribution sectors. The company was the first in the UK to receive 'recognised expertise' status in SAP Business One and is also the proud holders of the SAP Business One, Best performance for Customer Satisfaction award 2017.
Under the new partnership, Signum will continue to provide highly effective business solutions using SAP Business One, installed and implemented on transparent and robust infrastructure, whether that be hosted in the cloud or on-premise.
"Kinetek deliver high-quality infrastructure solutions to their national client base, they also have a great deal of experience with ERP systems and extensive knowledge of the industry sectors that we specialise in. Kinetek's unique mix of technology expertise and understanding of ERP sets them apart from other providers, which makes them the ideal Signum partner," says Lindsay Pointon, Managing Director, Signum Solutions. "This partnership allows us to provide our customers with a greater choice for server & infrastructure deployment and helps them reduce business risk"
About Kinetek Solutions:
Kinetek Solutions is customer focused, IT Technical Services company based in the Northwest offering straight talking, straightforward technology. For over 20 years our backup solutions and other IT services have kept businesses country-wide up and running efficiently. For more information, visit www.kinetek.co.uk
About Signum Solutions:
Signum Solutions specialises exclusively in SAP Business One for small and midsized businesses. The company is an award winning, fully certified SAP Business One Gold Partner and has clients in a range of sectors including food supply and service, chemicals and coatings, wholesale and manufacturing. For more information, visit www.signum-solutions.co.uk.
Media enquiries on this news release to:
Diane Harvey at Signum Solutions on 01244 676900 or [email protected]
or
Peter Tustain at Kinetek Solutions on 01625 569857 or email [email protected]