How Frobishers Juices Leveraged SAP Business One to Streamline Operations
Frobishers Juices is a premium drinks brand that specializes in pure fruit juice based in Devon. They operate a 9 million turnover business with 17 employees. The company was originally founded by Mike Dowdeswell in 1969, who started selling squeezed apple juice from the back of his car and the business has been growing steadily ever since.
In 1999 Frobishers became a limited company, before being acquired by Cobell Ltd (now known as Symrise Ltd) in 2009 and it has grown to produce 20 products across 4 ranges.
Challenges Faced by Frobishers
Cobell had made the decision to implement SAP Business One and as Frobishers faced several challenges with its old bespoke overseas system, which was outdated and unable to provide real-time visibility into its business operations. It was decided to implement SAP Business One into Frobishers also. The primary drivers being the need for better functionality, reportability, support, and flexibility.
The company aimed to make it easier for employees to process transactions and make use of the data to drive the business forward. By adopting SAP Business One, Frobisher's could record the basics more efficiently and use the system to provide critical information for decision-making, rather than spending excessive time recording data.
The move was a critical step in the company's journey towards growth and expansion.
Working with Signum
Frobisher's decision to work with Signum Solutions for SAP Business One support was driven by their dissatisfaction with the post-implementation support they were receiving from their implementation partner.
The company felt that although the system was functioning day-to-day, it wasn't working in the way they had intended, and they weren't getting the expected benefits. This led them to seek out a partner that could offer better support and help them realize the full potential of the system.
Although the decision to switch support providers was not taken lightly, Frobisher's believed that it was necessary to ensure that they were getting the most out of their investment in SAP Business One. They felt that they had certain expectations of what they wanted from the system, and that these expectations were not being met.
The move to Signum Solutions for SAP Business One support has allowed Frobisher's to feel more confident in their use of the software. They feel that they are now getting the support they need to ensure that the system is working as intended and that they are able to achieve their business goals.
By partnering with Signum Solutions, Frobisher's was able to receive the support they needed to optimize their SAP Business One implementation and achieve their business objectives.
Pivot During the Pandemic
Like many businesses, Frobisher's was hit hard by the pandemic, with its turnover declining significantly overnight. The company had to pivot its business model and explore new routes to market, including developing an online process and introducing the concept of build-a-box to give customers more choice.
The company also had to understand more about what its customers liked and didn't like about its products, in order to improve its offerings.
Benefits of SAP Business One and working with Signum Solutions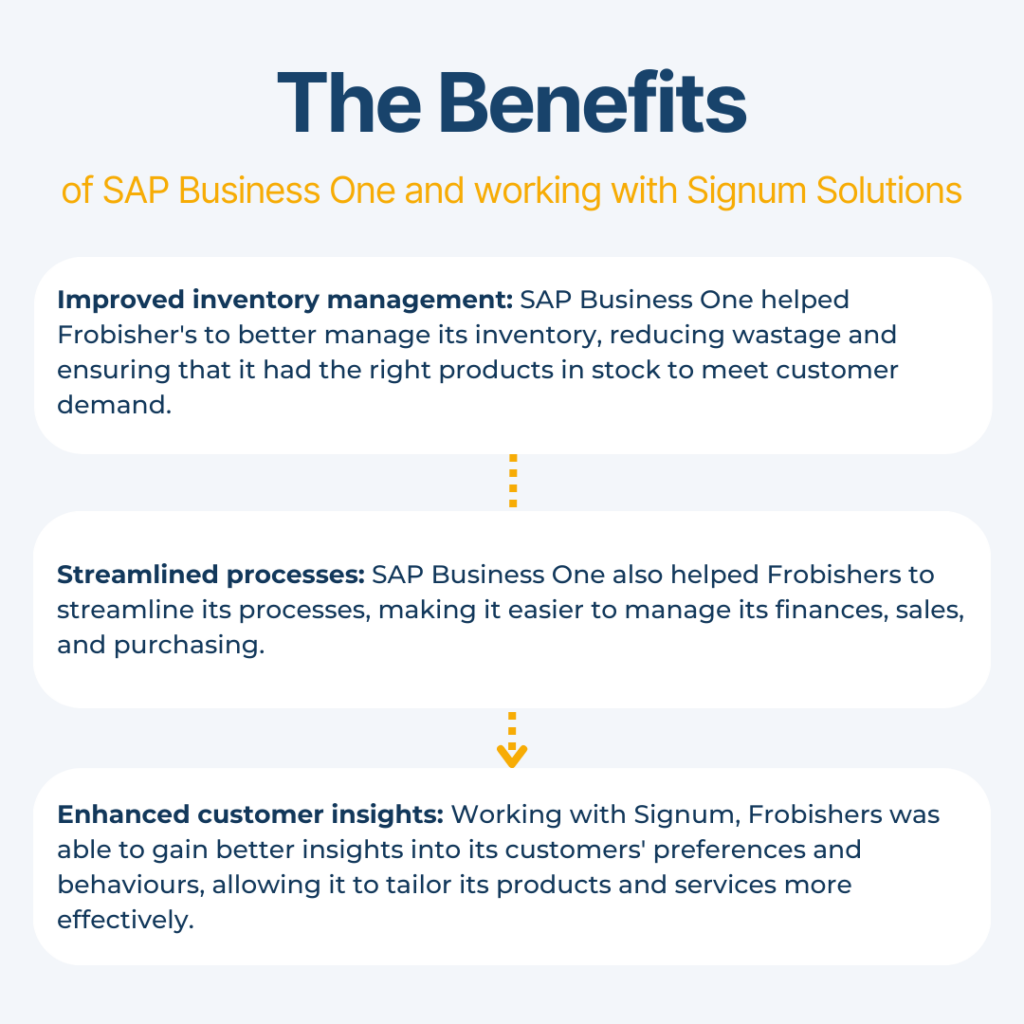 Conclusion
By leveraging SAP Business One and Signum, Frobishers was able to overcome its challenges and achieve key benefits, including improved inventory management, streamlined processes, and enhanced customer insights. With a focus on quality and customer engagement, Frobisher's is well-positioned to continue growing its brand and expanding its customer base in the years to come.
If you are facing similar challenges in your business, consider implementing SAP Business One and working with a trusted partner like Signum to streamline your operations and improve customer insights. Contact us today to learn more.
If you want to learn more about Frobisher's delicious and nutritious range of juices or want to create your own customized box, simply click here to visit their website: https://frobishers.com/products/build-a-box