Boyum IT
Founded in Denmark in 1997, Boyum IT has been a certified SAP Partner since 2004. The company provides easy-to-use configuration tools for SAP Business One, enabling companies to build their own unique functionality into the core SAP Business One system without the need for costly and lengthy bespoke work.
The company now supports over 1,500 companies who use the Boyum Usability Package (SAP B1UP) and has grown to include offices in Denmark, Germany, Spain, Belgium, Hungary, China and the USA. As well as a sales office in London, UK and various other sales offices across the globe.
At Signum, we believe that your business should never be put on hold. If you have a new idea for how to make your company work better, you should be able to make it happen without breaking the bank. And when it's time to upgrade your software, it shouldn't take months of expensive development to get your customized solutions working again.
We developed a relationship with Boyum IT so that we could offer our customers the opportunity to grow and upgrade their SAP solutions without having to wait months for costly development and coding. With Boyum's solutions, our customers can get customisation at a fraction of the typical cost of development—and it doesn't increase the workload when it comes to upgrading their SAP solution!
Get more out of your investment in SAP Business One
Build – Cloud App
Get both new and evolving products on the production line; quickly, efficiently and correctly.
Produce – Cloud App
Manage production orders by planning, approving and tracking production steps in real-time
Inspect – Cloud App
Build consistent quality testing plans to measure the success of your production
SAP Business One is a great product, but it can be so much more
B1 Usability Package
Get the most out of SAP Business One
B1 Print & Delivery
Automate your communication flow easily
CRM for Outlook
Grow your business by building strong connections
B1 iPayment
Process your credit card payments easily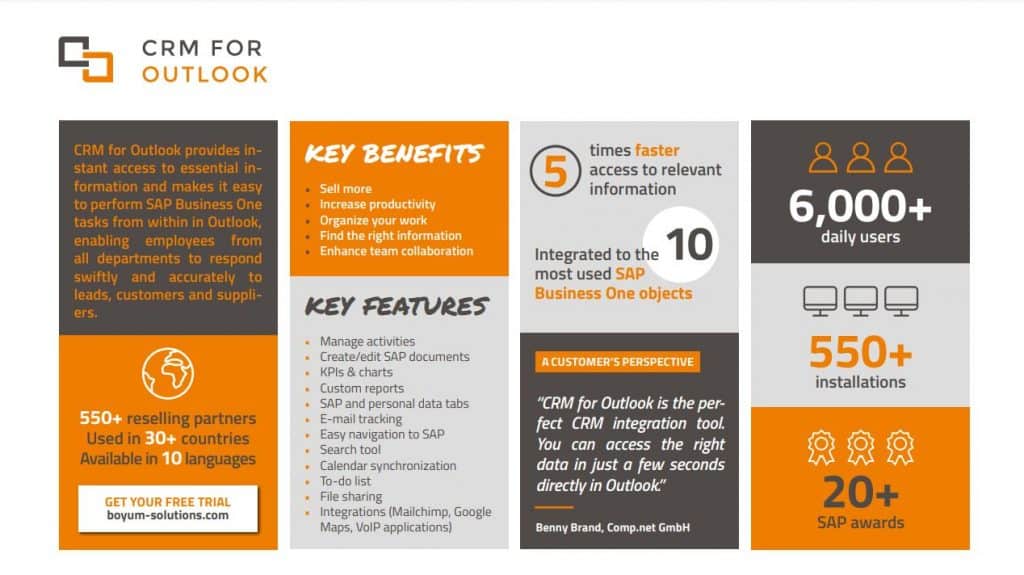 Boyum's software solutions have enabled businesses to get customisation at a fraction of the typical cost of development—and without preventing upgrades or increasing upgrade workloads.
To discover how you can enhance your SAP Business One solution, contact us today!
Free Advice
Request a FREE demonstration with one of the most well established SAP Business One partners in the UK.