CompuTec
Founded in 1999, CompuTec S.A. specializes in advanced manufacturing and logistics solutions for SAP Business One. With a strong focus on product innovation and responsiveness to global manufacturing trends, CompuTec solutions help business both optimize and simplify their operational practices.
CompuTec solutions are all fully integrated both with each other and with SAP Business One and are highly customizable so that they can be easily tailored to each manufacturer's individual requirements.
Their flagship product, CompuTec ProcessForce, enhances SAP Business One with a range of manufacturing functionalities specifically designed to accommodate complex production processes and the data management needs of highly-regulated industries such as food and beverage, pharmaceuticals and chemicals to name but a few.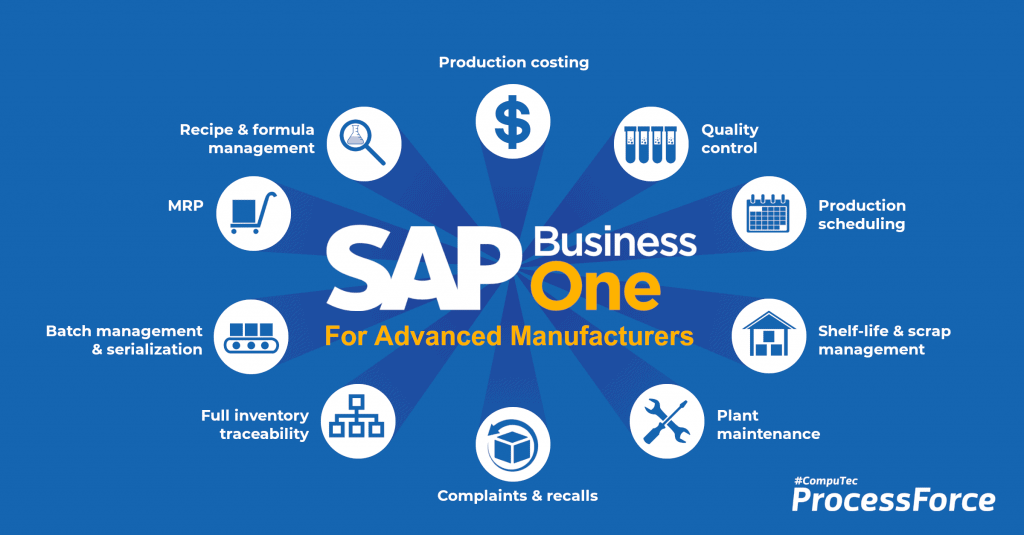 The suite of solutions on offer by CompuTec also includes CompuTec PDC (Plant Data Capture), CompuTec WMS (Warehouse Management System) and CompuTec Labels (logistics label printing management). CompuTec AppEngine is an API platform that aids integrations and the creation of custom extensions for CompuTec solutions and SAP Business One while CompuTec Holo is an augmented reality solution for advanced manufacturing which includes artificial intelligence algorithms and is currently in the later stages of development.
Signum Solutions is a long standing, award winning partner of CompuTec S.A, our mission is to provide a complete SAP Business One solution for UK based process manufacturers.
CompuTec launched ProcessForce in 2011 to address the need within the SAP marketplace, for deeper manufacturing functionality for companies involved in Process Manufacturing. By this we mean companies who need functionality to support Recipes or Formulations rather than traditional Bills of Material, who need support for Yield and Scrap, Co-Products and By-Products, who need functionality that covers the Quality Control process, that enable them to manage detailed Ingredient Specifications. The ProcessForce solution provides all of this, as well as a more intuitive scheduling board for manufacturing staff.
Signum has a wealth of experience working in the food and chemicals sectors and that experience, coupled with the ProcessForce solution for SAP Business One, makes a compelling case for small and medium sized companies in the process sector.
Signum and CompuTec together, provide the SAP Business One Industry Editions for Chemicals as well as Food & Beverage and Signum are now the leading worldwide partner for CompuTec, with more ProcessForce implementations than any other partner.
Download – Computec Overview Brochure
Free Advice
Request a FREE demonstration with one of the most well established SAP Business One partners in the UK.