SAP Business One v10 – Top 5 features
As one of the most powerful ERP system providers in the world, SAP is always on its toes while inventing something new for its clients. And this time it's no different from the previous years. The release of SAP Business One v10 has a lot to offer to its user. There are new technical changes and new features added with some great new functionalities of the system, that makes it more efficient and user-friendly.
SAP Business One v10  is the latest version of SAP's ERP software. It has a comprehensive solution which can be used by all kinds of small- to medium-sized companies. It has some great new features that have made working within the system much simpler. So let us have a look at these new features that come with this new version.
SAP has updated the following areas in SAP Business One v10:
Web client
Usability
Administration
Financial Management
Localization
Sales | Purchasing | Service
Project Management
Inventory | Distribution
Production
Platform | Extensibility
It is important to take time to understand the power behind SAP Business One, it's a complete package of software for your business. You will be planning, controlling, analysing, and optimizing all that you do. The new release has many features that are definitely worth noting.
In this post, we will be going over the top five things you need to know about the new release. These are features that have been most popular with users and our team has discovered many ways for users to take advantage of each of these.
Localization – New UK (Brexit) Localization
The post Brexit transition is a challenging time for UK businesses, and it has been important for some of our customers to have more flexibility in their systems to comply with the post Brexit regulations. With SAP Business One version 10 introduced, SAP now offers its customers and business partners an additional version that supports the new regulatory requirements.
Financial Management – Drill down to G/L Account in Financial reports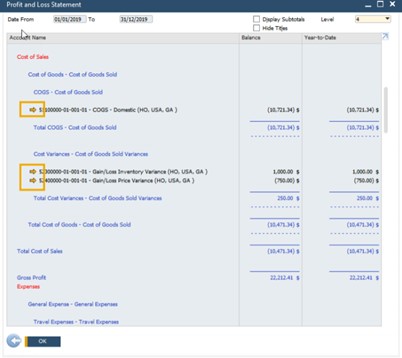 In SAP Business One v10, the main financial reporting capabilities have been expanded to include drillable links to the ledger.
Golden arrows have been added next to the account codes that allow users to drill down into the account record within the "Chart of Accounts". The feature is also available for the Balance sheet, trial balance, and Profit and loss statement.
Usability – New Look & Feel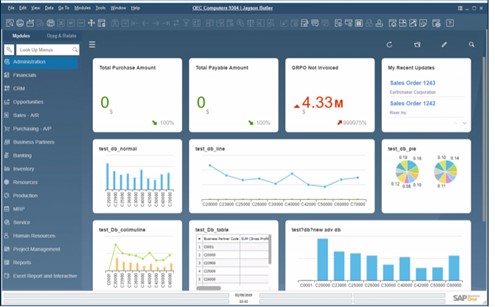 SAP Business One v10 comes with a new skin style, called "Belize Deep". In other words, the look and feel of the interface has changed to a more user-friendly one. This style was inspired by SAP Fiori design and is following the Web Client look & feel.
This is currently available when using the Fiori Style Cockpit.
Inventory Enhancements – Batch and serial number management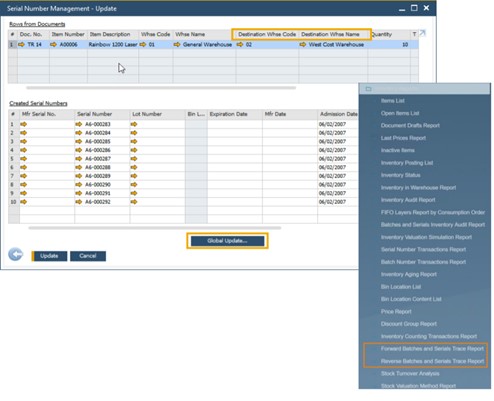 SAP Business One V10 makes it easy for you to manage serial and batch numbers. Not only can you update the Accounts Receivable reserve invoices and Inventory Transfer Requests details. You can also add warehouse codes and names in the Serial Number or Batch Management Update form.
Platform Extensibility and Technology Enhancements – Microsoft 365 and OneDrive integration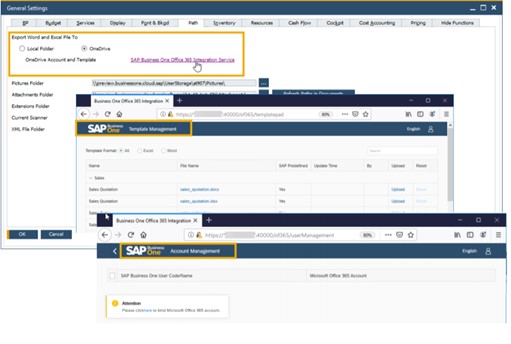 SAP Business One v10 now offers a direct link to Microsoft Office and can integrate seamlessly with Office 365 and OneDrive. In other words, you will not only be able to share documents with colleagues, but will also be able to have those documents directly editable on the go…
Also, this versions template management system allows for more flexibility in creating document layouts and you can automatically upload exports into OneDrive and make it easier to report and manage document layouts.
In conclusion; the latest version SAP Business One definitely contains a lot of exciting new features to facilitate business processes and streamline operations for companies using the solution. It is vital that businesses stay competitive in today's economy, and this can only be achieved through effective management of your business processes while achieving greater efficiency.
Interested in learning more about SAP Business One v10? We are offering a free personalised business assessment to help you understand the specific benefits to your business. Register here