SAP business software for small and medium-sized enterprises (SMEs) is a popular topic. As we all know, SAP is one of the most successful business software providers in the world. But contrary to popular belief, SAP is not just for large companies with thousands of employees, it can be used by SMEs, even if your business only has one department or product/service.
Overall, SAP has made tremendous progress in revolutionizing the ERP industry and continues to make great strides in how businesses all over the world conduct their business. However, in recent years, SAP has been making ERP solutions available to smaller business at a more affordable price point.
For organizations that don't have big budgets, the SAP business software solutions for SME's might just be the ticket.
If you are considering SAP business software for your businesses, then no doubt you have come across some negative remarks about its complexity. It can be difficult to navigate the many modules that are needed for a viable business system. However, SAP has made it easier through SAP Business One.
SAP Business One is an all-in-one integrated ERP solution, designed to suit the needs of small and growing business enterprises. The business software for small organizations has been designed to provide effective management of financials, inventory, sales, marketing, manufacturing, procurement, shipping, transportation and more.
SAP Business One for small to mid-sized companies has been designed specifically to cater to the needs of SMEs. It covers off all the basics of running a company and enables you and your team to focus on other aspects of running and growing your business.
SAP Business Software for SME's has the power to speed up growth and create reliable data on daily volume, revenue and profits. SAP makes small companies stronger and smartest companies bigger.
Below is some of the functionality available in SAP Business One for SME's:
Business Intelligence
Report Creation and Customisation
Interactive Analysis
Intuitive Tools
Analytics and Predefined Metrics
Powerful data visualisations
SAP Business One
SAP Business One is a single, affordable solution to manage your entire small business – from accounting and financials, purchasing, inventory, sales and customer relationships to reporting and analytics.
Regardless of the size of your company, whether it's a small enterprise or a non-profit organization, if you are looking to improve efficiency, track business data, work with vendors, interface with customers, make real-time decisions to boost growth and much more, implementing an SAP System is the best way to do it.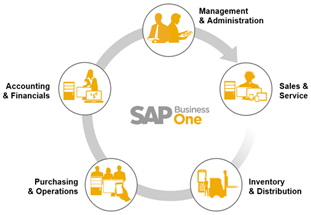 SAP Business One is not only the wise choice for most companies but with SAP you will also get access to an award winning implementation partner like us, with our team of SAP trained consultants, with almost 20 years of implementation experience across the United Kingdom.
Let us answer your questions during a meeting at your premises and explain the special advantages of this ERP solution exactly for your company – call us on 01244 676 900